MY DATSUN (Z) JOURNEY
by Terry

After 40 ownership of a Datsun 240K retirement in 2005 opened up the opportunity to acquire a Z. The best course of action for me was to join the Z Car Club in 2006 and take advantage of the wealth of knowledge of members while I underwent the hunt.
Shortly thereafter I was the proud owner of an unregistered 260 2+2requiring some tender loving care but overall, in sound condition. The 240K had to go but with a new clutch, a fiddle with the SUs, brake replacements, minor rust repairs and a quick paint touch up I was on the road with the runs and camaraderie that belonging to the Z Club brings.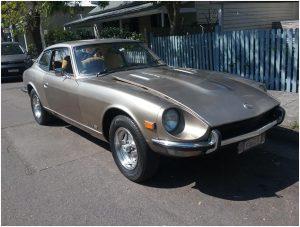 I'd not been after a concourse win but primarily the enjoyment of the drive in a classic Z. Clubs can't operate without member involvement and I later had the opportunity to assist and slot into the Treasurer role.
After a 15 year partnership with my 260, age and wonky knees have caught up and I have now acquired a well maintained, low mileage 350 for longer trips. Auto trans, air con, power steering heated seats, a happier wife and still a Z – why wasn't I told about this earlier?
But the 260 is still in the garage, reserved for less arduous runs and won't be given up for a long while yet.
by Terry
______________________________________________________________________
The Phoenix 370Z
by Craig Tebbet
Purchased as a Vandalised, neglected and non-running car in April 2017, the car that I saw sitting in the garage just begged to be brought back to life, it had 56,000km's on the odometer and was only 8 years old.
I accepted the challenge!
The owner's story was that he was driving it one day and it suddenly stopped and would not restart. He had taken it to a mechanic, who, with the benefit of history, I would not take a horse and cart to.
The vandalism was a mystery and according to the owner is how he got the car. It had severe scratches across the rear bar and left rear quarter which are still visible. The front drivers side guard had been egged. The driver's side rear quarter and hatch had been hit with a hammer and the sills had lost a fight with a gutter.
The neglect appeared to be caused by the car sitting in the weather for an extended period. The windscreen wipers had perished and had etched into the windscreen. The paint was in a very dirty poor state but showed signs that it could be revived. The interior wasn't much better.
The non-running issue was caused by the cam timing markers rotating inside the cam sprockets which threw the timing outside what the ECM could compensate for.
The car went to a number of mechanics including a Nissan dealer and all were baffled before I finally towed it to Steve Cox who agreed to work on the car in between jobs and was given several months to do so as I was recovering from major shoulder surgery and couldn't drive. Steve found and solved the problem.
I have spent the last 4 years and more money than my wife thinks to present the car in its current state, risen from the ashes!
by Craig Tebbet
______________________________________________________________________
A Dream Come True
By Josh
As a teen in the 90's I used to ride my bike past a neighbours house and he would be out the front washing what I thought was the coolest car i had ever seen. It was a limited edition "Stillen" z32 300zx. I remember dreaming about how I would love to own a car as cool as that when I got older.
Fast forward 10 years and I was driving around in a very uninspiring standard VT Commodore and happened to receive a call from a friend of mine who owned an immaculate Z32 300zx slicktop.
The slicktop was a really rare model imported from Japan that has no Targa roof.
He called to let me know his wife was pregnant. After congratulating him, knowing he would now need a family car I proposed a swap.
To my surprise he replied "sure, why not!"
Not even a week later, the exchange was done and I had my first Z!
I loved the torquey feel of the motor, the comfortable interior, the way it handled, in fact everything about it.
I ended up selling it many years later because I needed a car I could use to tow a trailer. I did however vow to get another. What I didn't expect is that it would take 15 years to get around to it.
In 2020 I started the search for that next 300zx. My criteria was quite strict, it had to be a manual, it had to be a 4 seater this time round, and it had to be as close to stock as possible. No interior mods, no body kits and bonus points for anything with good documentation. TT or non turbo I didn't mind, I was more interested in the quality and condition over the power. 
After a 6 month search I found an immaculate 1990 car with 98,000km on the clock. It was one of 1463 cars sold through Nissan Australia (not a Japanese Import).
It had a full documented service history, all 3 original keys (one of them still wrapped in plastic), original purchaser registration card, all manuals and a perfect interior and body. I was sold!