Vincent's 240Z
My interest in Z cars began in January '75 when my father arrived home with a brand new 260Z 2+2; the first registered in Australia he had been told.
Later that year I traded in my '65 beetle on a '71 240Z (Mexican orange).
3 years later insurance proved to be an expense I couldn't justify and I moved on to a string of boring, non-descript cars.
Fast forward to 2002, I notice a tidy looking, but obviously unfinished 240Z project in a neighbour's garage and I mentioned to my wife that if it comes up for sale I would try to buy it. No sooner did I say that, the car disappears and I guess that the owner has moved the car on. Just as well as I had nowhere to store it having just demolished our fibro garage (and disposed of it responsibly of course).
Lo and behold, not long after when looking through the Trading Post I see it advertised. It had been moved to the owner's parent's home just around the corner from us, to ready it for sale.
I go to see the car and it looks great on the outside but much in need of internal work.
The asking price was $3,850 (outrageous!) but he said "how about $3,500" and I become the owner of a pretty much rust free automatic 240Z with a new paint job. Hundreds of man hours must have gone into the body work, something I was grateful I wouldn't have to do.
We managed to get it started and I drove it the 500m home.
Our very kind neighbour let me use his vacant garage which really excited his grandchildren with comments such as "Wow! Grandad's got a new sports car. Why can't we go for a spin?"
I joined the Z Car Club more or less straight away and that proved to be invaluable. Hardly a meeting went by when someone wasn't selling a list of parts. I had a load of bits to buy and decided early to get them when I could, including a fantastic manual gearbox from a member who was having a clear-out. I wish I had bought it all!
I had a mechanic remove the automatic transmission (those things are heavy!) and install the 5 speed box. A compression test on the engine was fantastic, considering it had been 9 years off the road.
Much of the interior needed restoring or replacing, so that's what I did over the next couple of years.
I registered the car to enjoy it for a while then maybe do a more comprehensive restoration.
So I am now 20 years into my original 5 year restoration plan.
Stay tuned for the next instalment in 2042.

---
Weapon of Choice – Datsun 240Z Rally car 1973
by John Wakeling
The 240Z was the weapon of choice for rally cars for those who couldn't
afford a Porsche. Why not just create a Porsche killer that is the Datsun
240Z?
A little history of an old rally/race car

The present owner purchased this car in Toowoomba Qld in July 2016. If you
were building a go fast 240Z today you would follow this formula. Triple Webbers,
2.8 litre engine, 5 speed close ratio gearbox (Holinger), 4 wheel disc brakes
and NISMO limited slip diff and uprated suspension.
With an extensive rally and tarmac racing history this 240Z was originally
developed by Steve Annabel from the Blue Mountains in 1998. Steve competed
in the state rally championships including Lithgow, Byron Bay, Bathurst,
Braidwood, Coffs Harbour, Bega and Canberra.
Mike Meiers of Toowoomba bought the car in April 2009 and raced in tarmac events at
Maryborough, Morgan Park and Leyburn and hill climbs at Noosa.
"The car has competed at Leyburn sprints where it placed second in class against some stiff competition being 911 full comp car amongst others. It won its class at Gatton and
competed at Morgan Park sprints. It's been a very reliable car that held its own amongst
high dollar competition. Only weak link was the driver. NEEDED BIGGER BALLS!
A sadly missed piece of my past." Michael
Winning the East African Safari Rally in the 1970's Datsun 240Z, 260Z and 280Zs
created a very strong winning history for Japanese cars and proved they could
withstand the punishment of rallying and win. This car is evidence that the winning
formula from the 1970s has stood the test of time and is even today an
effective weapon.
The reunion of car with its creator/builder, racer (Steve Annabel) and the current owner 2018.
What Steve Annabell said:
Hi John,
The roll cage was quite solid steel as it was fitted to my first ill-fated Zed which was a major rust bucket. The cage real-ly did need to hold the roof on! That car was my worst effort as I totalled it in its first event. The car you have was owned by a friend, who now wishes he still had it, and was stored in a garage for count-less years which is the main reason for its solid structure. We originally ran it, under the rally rules of the time, with the factory fuel injection which was rubbish. For its second year the rules relaxed and we fitted the webers, tickled the ports very mildly and put the modest cam in, all of which transformed its pow-er. Stew Wilkins dynoed it for us and was apologetic about its modest power, I didn't mind at all as it still had much more 'go' than I'd had for many years, and in the dirt had instant grunt at any revs.
We had numerous 'niggles' with it, including fuel pumps that couldn't handle the heat and bumps, the rear struts punched through and needed to be welded back in early on. Our biggest continuing issue was snapping half shafts, which it did quite frequently. Back in 'those days' there was no easy fix for that apart from maybe less exuberance in the driving (unlikely to happen!). The diff had been upgraded to its current state at Arthur Jackson's workshop, it cost quite a bit but was faultless, solid and reliable. The gearbox was a '2 gear' Hollinger (you could get a 3 gear) and gave no trouble in the Zed. Original wheels were Bathurst Globe , as pictured in the log book. Built 'way back then', the brakes were 'as good as could be got' at the time, I remember the fronts were a Verada disc and I think a Commodore calliper (not sure), I know we had to cut down pads to fit, there was nothing suitable off the shelf for racing.
The original crashed Zed had Tokiko strut inserts which were great up till the first bump, then they just plain went away. They were not entertained for use in the 'new car' and being a few years later in build, Brillstein's had become available and worked well. It always tended to understeer, like any Jap car of the day, but it didn't take much right foot to balance that out!
We had many 'friends' we rallied with, but in that car's day Jack Wightman was running the ex Barrie Smith Zed which was developed opposite to ours in that it was a high horsepower screamer compared to our low revving grunter. Jack still has his Zed and runs it in classic rally events. Jack was usually slower than me in the fast stuff but he was quicker in the slow stuff. Different personalities/styles I guess.
I have attached the few photos I have of the car in events as well as one of our Championship winning 1600 and the 'hand grenade' VR4 that I bought after the Zed sale (big mistake that was). My mate and mechanic, Ken also has a Zed road car which really is quite beautiful and stock looking with a high horse-power stroked 280 engine in it, which really goes. He is also building up another 260 for a customer. We would all love to see the old rally car again and in particular Ken would love some photos of the cars to-gether if we could arrange it. His workshop is in Springwood. If we can't organise the cars together it doesn't matter, would be great to see the Zed again though. Ken said this morning that he has some pics of the Zed as well that he will chase up. Could be some there that I haven't seen!
Looking forward to catching up.
Steve.
We are only the custodians of these cars and their stories are ageless.
Buying the 240Z Rally Car
Strange things happen when you've decided to buy something. You've done your research, checked out what's available you know what's good value and are ready to buy, your on a mission. On a Friday back in 2016 I found a 240Z in McLaren Vale SA to buy. I called the number and left a message. About 1.30pm that day the seller called back to inform me it was sold. Disappointed I kept look-ing, that night very late my phone pinged and another 240Z had been listed for sale so I rang the number, no answer, so left a message. About 7.00am the next morning Mike from Toowoomba calls me back, I'm in the shower so my wife hands me the phone and we do a deal to buy the Z. whilst I'm in the shower.
On arrival in Toowoomba the next day I check over the car and completed the sale, then to my surprize Mike opened the garage door and says to me all this goes with it. In summary, there are engines, drivetrains, suspension bits, mud-guards, bonnet, rear hatch and a heap of wheels, interior panels, instruments and lots of spare Zed stuff.
The challenge was then how to get all of this back to Sydney. Fortunately a mate had some of his trucks stuck in Queensland and wanted them back in Sydney so that's what I did. I loaded all the parts into one of Scott's trucks and drove it all back, we then had the car eventually shipped back by car carrier.
The 240Zs history continues!!!!
___________________________________________________________________
The 1971 Orange (Sahara Gold) 240Z "BARN FIND"
A classic "Barn Find" by John Wakeling
Found in the most unlikely place, a garage in Cammeray Sydney. My ownership would never have been possible if I wasn't a member of the Z Car Club.
As a young man the owner backpacked off to England overland and returned to Australia around July 2017 when his aging mother was being moved into a nursing home. Tasked with cleaning the family home so it could be rented the car owner had to make a decision, keep it or sell it. With his family and business residing in England the decision was to sell but only if it went to someone who would care for it.
Enter the present owner.  Viewing the car, the last registration label showed the registration commenced on December 11, 1995. Further examination of the records showed the registration was cancelled on 9th of January, 1996, as the owner returned to England having attended a wedding in Orange NSW, thus more than 22 years just sitting.
The paint looked okay from 10 feet and was worst closer up. The front centre of the bonnet had accident damage and was a vented 260Z bonnet. There was no apparent rust and the interior was excellence, complete and original. The seats had covers on suggesting they were worn.
The tyres were in as new condition. Further investigation showed a receipt for the tyres from 30th of December 1992 and the engine and gearbox was rebuilt in February 1987 at 72,588 miles.
The mileage was now 91,441 miles. Importantly this 240Z is an original 1971 matching numbers car with the original 2.4 litre motor and manual 5 speed gearbox. Everything is virtually original and the motor turned over but didn't start, so I made an offer and after a few minutes haggling I bought the car on the 28th of June 2017.
A thorough inspection and clean found:
All rubber components found to be brittle and perished
All the electrics worked, even the radio, and the auto antenna went up and down. The brakes worked, but the brake hoses were perished
Tyres virtually unused were very hard and had flat spots from sitting for so long
The fuel in the tank was black tar.
So what's been done to date?
New tyres, filters & fluids
New brake hoses, Stainless steel sleeved master, wheel & clutch slave cylinders, Refurbished brake booster
Cleaned radiator
Replaced all rubber cooling hose & metal pipes & fuel hoses
Heater hoses under the dash (Still to be done)
Seat cushions, webbing & covers replaced, Seat frames prepped & painted
Manual fuel pump internals replaced
Fuel tank removed & cleaned of black/orange tar (7 hour job)
Squirted engine oil into each cylinder
All door & hatch rubber seals to be replaced.
On the 1st of February 2017 the car was started for the first time since 1995/6. On the 3rd of February it passed a blue slip examination and was registered on the 5th of February 2017.
In 2019 the 240Z was displayed at ZedFest an event where the Z Car Club Sydney celebrated the 50th anniversary of the 240Z. Photos of the car were included in the Unique Cars magazines article about ZedFest. In 2020 the car was moved from Sydney some 350 kilometres, the furthest the car has been driven in 24 years. Amazingly the car performed very well on this trip.
The car is now residing in the Central West of NSW and the present owner uses it when travelling to meet up with family in that area. Thanks to Auntie Mary for looking after it.
This is the beginning of the next chapter in the life of "The Orange 240Z".
______________________________________________________________________
MY DATSUN (Z) JOURNEY
by Terry
After 40 ownership of a Datsun 240K retirement in 2005 opened up the opportunity to acquire a Z. The best course of action for me was to join the Z Car Club in 2006 and take advantage of the wealth of knowledge of members while I underwent the hunt.
Shortly thereafter I was the proud owner of an unregistered 260 2+2requiring some tender loving care but overall, in sound condition. The 240K had to go but with a new clutch, a fiddle with the SUs, brake replacements, minor rust repairs and a quick paint touch up I was on the road with the runs and camaraderie that belonging to the Z Club brings.
I'd not been after a concourse win but primarily the enjoyment of the drive in a classic Z. Clubs can't operate without member involvement and I later had the opportunity to assist and slot into the Treasurer role.
After a 15 year partnership with my 260, age and wonky knees have caught up and I have now acquired a well maintained, low mileage 350 for longer trips. Auto trans, air con, power steering heated seats, a happier wife and still a Z – why wasn't I told about this earlier?
But the 260 is still in the garage, reserved for less arduous runs and won't be given up for a long while yet.
______________________________________________________________________
The Phoenix 370 Z
by Craig Tebbet
Purchased as a Vandalised, neglected and non-running car in April 2017, the car that I saw sitting in the garage just begged to be brought back to life, it had 56 000km's on the odometer and was only 8 years old.
I accepted the challenge!
The owner's story was that he was driving it one day and it suddenly stopped and would not restart. He had taken it to a mechanic, who, with the benefit of history, I would not take a horse and cart to.
The vandalism was a mystery and according to the owner is how he got the car. It had severe scratches across the rear bar and left rear quarter which are still visible. The front drivers side guard had been egged. The driver's side rear quarter and hatch had been hit with a hammer and the sills had lost a fight with a gutter.
The neglect appeared to be caused by the car sitting in the weather for an extended period. The windscreen wipers had perished and had etched into the windscreen. The paint was in a very dirty poor state but showed signs that it could be revived. The interior wasn't much better.
The non-running issue was caused by the cam timing markers rotating inside the cam sprockets which threw the timing outside what the ECM could compensate for.
The car went to a number of mechanics including a Nissan dealer and all were baffled before I finally towed it to Steve Cox who agreed to work on the car in between jobs and was given several months to do so as I was recovering from major shoulder surgery and couldn't drive. Steve found and solved the problem.
I have spent the last 4 years and more money than my wife thinks to present the car in its current state, risen from the ashes!
______________________________________________________________________
A Dream Come True
by Josh
As a teen in the 90's I used to ride my bike past a neighbours house and he would be out the front washing what I thought was the coolest car i had ever seen. It was a limited edition "Stillen" z32 300zx. I remember dreaming about how I would love to own a car as cool as that when I got older.
Fast forward 10 years and I was driving around in a very uninspiring standard VT Commodore and happened to receive a call from a friend of mine who owned an immaculate Z32 300zx slicktop.
The slicktop was a really rare model imported from Japan that has no Targa roof. He called to let me know his wife was pregnant. After congratulating him, knowing he would now need a family car I proposed a swap.
To my surprise he replied "sure, why not!" Not even a week later, the exchange was done and I had my first Z!
I loved the torquey feel of the motor, the comfortable interior, the way it handled, in fact everything about it. I ended up selling it many years later because I needed a car I could use to tow a trailer. I did however vow to get another. What I didn't expect is that it would take 15 years to get around to it.
In 2020 I started the search for that next 300zx. My criteria was quite strict, it had to be a manual, it had to be a 4 seater this time round, and it had to be as close to stock as possible. No interior mods, no body kits and bonus points for anything with good documentation. TT or non turbo I didn't mind, I was more interested in the quality and condition over the power.
After a 6 month search I found an immaculate 1990 car with 98,000km on the clock. It was one of 1463 cars sold through Nissan Australia (not a Japanese Import).
It had a full documented service history, all 3 original keys (one of them still wrapped in plastic), original purchaser registration card, all manuals and a perfect interior and body. I was sold!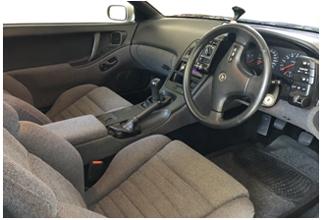 My plans are to hang onto it and just show it the same respect the previous owners have. I'm going to keep it as close to standard and original as possible and enjoy it with my family on the weekends and at club run events.
In my search before finding this car I randomly knocked on that neighbour's door to see if they still had the "Stillen" hidden in the garage (just in case). Turns out he regretfully traded it in…on a run out model VT Commodore!! *sigh*
So Josh why did you join the Z Car Club Sydney?
I joined the ZCCS for many reasons.
First and foremost it was for the friendship and being a part of a group of like minded individuals. Those that share the love of the Z!! Not just the 300zx but all Z cars.
This leads into the second reason. I know a bit out but the z32 300zx but the fact the club accepts all Z's has given me the opportunity to learn about the Z heritage (in the 240, 260, 280, z31 300zx) and also post my own model (350, 370 and whatever is next to come).
I also love that the club makes an effort to have the monthly meetup but also a monthly event organised in the form of cruises, weekends away, show and shines etc… It gives a great excuse to get the Z out on the road and the events are always enjoyable.
The other big benefit is the club offering historic rego. It makes owning a classic Z and keeping it on the road much more affordable.
___________________________________________________________________
Experience ZEDIFICATION™
CLUB MAIL ADDRESS
Z Car Club P.O. Box 651, Lidcombe 1825
CLUB EMAIL